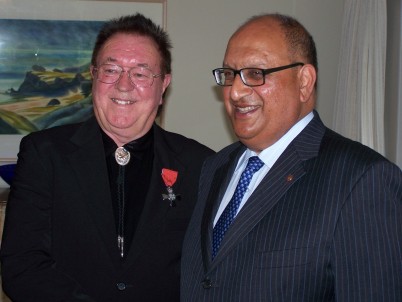 The Governor-General, Hon Anand Satyanand, will host a special investiture tomorrow afternoon (10 February 2009) in Wellington for New Zealand singer Johnny Devlin.
Mr Devlin was made a Member of the New Zealand Order of Merit (MNZM) in the 2008 New Year's Honours list for services to entertainment.
He has been unable to attend the biannual investiture ceremonies in Wellington or Auckland due to pressing work commitments in Australia. However, as he was in New Zealand to perform at the New Zealand Master's Games he sought an investiture at this time.
The investiture ceremony will be at 2pm and media wanting to attend this ceremony must contact Antony Paltridge, Public Affairs Officer, at Government House Wellington by 11am on 10 February.
Citation:
Mr Devlin was one of New Zealand's first rock'n roll stars, dubbed the Wanganui Wailer, between 1957 and 1959. In 1958, he recorded Lawdy Miss Clawdy, which topped the charts selling over 100,000 copies without being played on radio and was the first gold record awarded in New Zealand. He and his band were the support act for The Beatles' tour of Australia and New Zealand. He wrote the official song for the 1974 Commonwealth Games, The Games Are On, has written material for singers such as Eartha Kitt, and has continued to record and perform throughout Australasia. He was awarded a Macquarie Tune Table Award, the Bandstand Award for his contribution to fostering New Zealand and Australian musical talent, and the New Zealand Music Awards Legacy Award in 2007. Mr Devlin has also supported New Zealand charities for the benefit of people with Downs Syndrome.
See more images from the investiture.