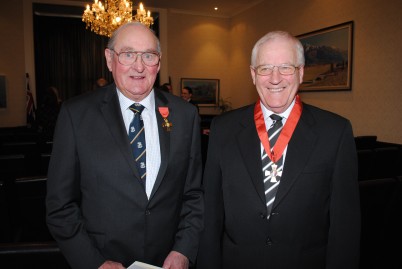 The diverse achievements of 29 South Islanders will be celebrated at investiture ceremonies in Christchurch this week.
The Governor-General, Rt Hon Sir Anand Satyanand, will host two ceremonies at the Canterbury Club in Christchurch on Wednesday 1 September at 10.30am and 2.30pm.
To view images, click here
Media wanting to attend must contact Public Affairs Manager, Antony Paltridge, on 021 470 583 by 5pm on Tuesday 31 August. Media are reminded that a reasonable standard of dress is expected at investiture ceremonies.
Wednesday 1 September 2010, 10:30am
• Thomas Doocey, Christchurch, CNZM for services to rugby
• Alan Hampton, Ashburton, ONZM for services to equestrian sport
• Maurice Mahoney, Christchurch, ONZM for services to architecture
• Andris Apse, Okarito, MNZM for services to photography
• Memea Ma'aelopa, Christchurch, MNZM for services to the Pacific Islands community
• Henry Williams, Christchurch, MNZM for services to entertainment
• Elizabeth Wilson, Dunedin, MNZM for services to education
• William Anstiss, Ashburton, QSM for services to the community
• Diane Brodie, Christchurch, QSM for services to theatre
• Margery Clucas, Ashburton, QSM for services to the community
• Leslie Howard, Timaru, QSM for services to the community
• Fleur Latham, Christchurch, QSM for services to education and the community
• Rev John Latham, Christchurch, QSM for services to education and the community
• Stewart Miller, Rolleston, QSM for services to the community
• Michael Ryan, Westport, QSM for services to the deepsea fishing industry

Wednesday 1 September 2010, 2:30pm
• Paul Dallimore, Christchurch, QSO for services to the arts
• Dr Richard Fenwick, Christchurch, ONZM for services to engineering
• Robert Tapper, Queenstown, ONZM for services to aviation and tourism
• Vivien Chisholm, Christchurch, MNZM for services to music
• John Hargraves, Timaru, MNZM for services to organ restoration
• John McClean, Queenstown, MNZM for services to business
• Pamela Richardson, Akaroa, MNZM for services to conservation and the community
• Ian Beker, Invercargill, QSM for services to the community
• Deborah Dillon, Stewart Island, QSM for services to nursing and the community
• The late Russell Hodges, Winton, QSM for services to the community
• Martinius Pepers, Stewart Island, QSM for services to nursing and the community
• Allan Reid, Christchurch, QSM for services to shearing
• Corporal Matthew Pearce, Christchurch, DSD for services to the Defence Force
• Major Brendan Wood, Christchurch, DSD for services to the Defence Force