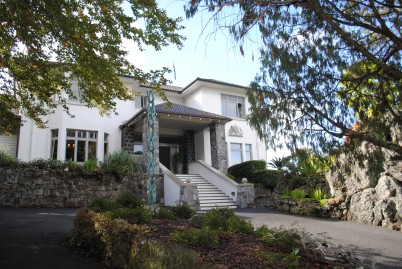 Notable politicians, authors, artists, wild horse conservators, Maori language innovators and a Wheel Blacks' legend are amongst the New Zealanders whose achievements will be celebrated at investiture ceremonies at Government House in Auckland next week.

Politicians past and present will be honoured with former Maori Party co-leader Dr The Hon Pita Sharples and former Deputy Prime Minister and New Zealand Permanent Representative to the United Nations the Hon Jim McLay receiving knighthoods. The Hon Murry McCully, Minister of Foreign Affairs will be made a Companion of the New Zealand Order of Merit for his role in New Zealand securing a seat on the United Nations Security Council.

New York based New Zealand artist Max Gimblett; Auckland children's author Jennifer Beck; Kaimanawa horse rescuers Elder and Marilyn Jenks; Tawhiri Williams, who was an innovator in bilingual and total immersion Maori education; and former wheelchair rugby star and disability sports administrator Tim Johnson will also be receiving their honours.

The Governor-General, Lt Gen The Rt Hon Sir Jerry Mateparae, and Lady Janine Mateparae, will host four ceremonies at Government House Auckland on Tuesday 25 August (2.30pm), Wednesday 26 August (10am and 2.30pm) and Thursday 27 August (10am).
Tuesday 25 August – 2.30pm
• Professor Graham Mellsop, of Auckland, CNZM, for services to psychiatry
• Mr Max Ritchie, of Auckland, CNZM, for services to health and the community
• Mrs Judith MacKenzie, of Auckland, ONZM, for services to mental health
• Dr George Ngaei, of Invercargill, ONZM, for services to health and the Pacific community
• Mr Nick Nobilo, of Auckland, ONZM, for services to the wine industry
• Mr Harry Burkhardt, of Auckland, MNZM, for services to Māori
• Ms Jeni Pearce, of Auckland, MNZM, for services to sports nutrition
• Mr Bruce Ritchie, for Auckland, MNZM, for services to education
• Mr Joe Gock, of Auckland, QSM, for services to the horticulture industry
• Mr Elder Jenks, of Auckland , QSM, for services to the welfare of wild horses
• Mrs Marilyn Jenks, of Auckland, QSM, for services to the welfare of wild horses
• Dr Barry Knight, of Whangamata, QSM, for services to health
• Mrs Yvonne Simpson, of Hokitika, QSM, for services to women
• Mr Lindsay Spooner, of Te Aroha, QSM, for services to the New Zealand Fire Service and the community
• Mrs Bonnie WIlliams, of Auckland, QSM, for services to youth
Wednesday, 26 August – 10.00am
• Dr The Honourable Pita Sharples, of Auckland, KNZM, for services as a Member of Parliament and to Māori
• Professor Roy Crawford, of Auckland, CNZM, for services to tertiary education
• Dr Jonathan Baskett, of Auckland, ONZM, for services to health
• Dr Gavin Ellis, of Auckland, ONZM, for services to journalism
• Ms Anita Finnigan, of Auckland, ONZM, for services to education and the Pacific community
• Mr Doug McKay of Auckland, ONZM, for services to business and local government
• Sergeant Robin Woodley, of Auckland, ONZM, for services to the New Zealand Police and youth
• Mr Tim Johnson, of Auckland, MNZM, for services to disability sport
• Mr Bruce Martin, of Napier, MNZM, for services to tertiary education
• Mrs Deirdre Neville-White, of Auckland, MNZM, for services to children's health
• Mrs Nora Rameka, of Kerikeri, MNZM, for services to Māori and education
• Mr Tawhiri Williams, of Auckland, MNZM, for services to Māori and education
• Mrs Geraldine Dunwoodie, of Thames, QSM, for services to heritage preservation
• Ms Harima Fraser, of Auckland, QSM, for services to veterans and Māori
• Mr Neilson Gifford, of Morrinsville, QSM, for services to squash
• Mr Ian Pirani, of Omokoroa, QSM, for services to conservation
Wednesday 26 August – 2.30pm
• Mr Robert Gardiner, of Auckland, CNZM, for services to philanthropy and the arts
• Professor Emeritus Boyd Jones, of Katikati, ONZM, for services to veterinary medicine
• Mrs Maretta Solomon, of Auckland, ONZM, for services to education and the Pacific community
• Mr Pulotu Solomon, of Auckland, ONZM, for services to education and the Pacific community
• Mrs Colleen Elizabeth Urlich, of Dargaville, ONZM, for services to Māori art
• Mr Latoa Halatau, of Auckland, MNZM, for services to the blind and the Pacific community
• Mrs Beverley McConnell, of Auckland, MNZM, for services to horticulture
• Ms Anne Miles, of Auckland, MNZM, for services to education
• Mr Tom Parsons, of Picton, MNZM, for services to education
• Mr Allan Rumble of Rotorua, MNZM, for services to education
• Mr Neville Smith, of Napier, MNZM, for services to philanthropy and the community
• Mrs Weixing Che, of Auckland, QSM, for services to the Chinese community
• Mrs Erin Fleming, of Pukekohe, QSM, for services to the community
• Mr John Goodin, of New Plymouth, QSM, for services to the community
• Mr Minarapa Mitai-Ngatai, of Rotorua, QSM, for services to Māori and the community
Thursday, 27 August – 10.00am
• The Honourable Jim McLay, of Matakana, KNZM, for services to business and the State
• The Honourable Murray McCully, of Wellington, CNZM,for services to foreign policy
• Mrs Jennifer Beck, of Auckland, ONZM, for services to children's literature
• Mr Maxwell Gimblett, ONZM, of New York, for services to art
• Mrs Tuiātaga Fa'afua Leavasa-Tautolo, of Auckland, ONZM, for services to education, arts and the Pacific community
• Mr Barry Lett, of Warkworth, ONZM, for services to art and conservation
• Mr Te Wahapu Rapana, of Tuakau, ONZM, for services to Māori
• Mr Paul Daley, of Auckland, MNZM, for services to education
• Miss Elizabeth Horgan, of Auckland, MNZM, for services to primary education
• Mr Nigel Ngahiwi, of Levin, MNZM, for services to the blind and Māori
• Ms Kereyn Smith, of Auckland, MNZM, for services to sports governance
• Mr Allen Wihongi, of Kamo, MNZM, for services to Māori, the arts and education
• Mrs Kit Crawford, of Auckland, QSM, for services to people with Williams Syndrome
• Mr David Jones, of Auckland , QSM, for services to the community and philanthropy
• Mrs Ethel Macpherson, of Gisborne, QSM, for services to Māori and education
• Lieutenant Simon Andrew Wasley, of Auckland, DSD, for services to the New Zealand Defence Force