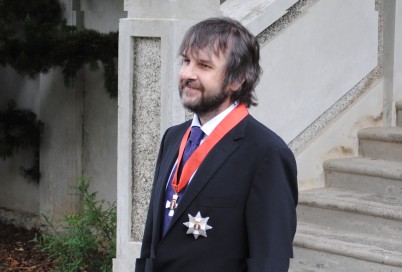 To view images from the ceremonies, click here
The Governor-General, Hon Sir Anand Satyanand, and Lady Susan Satyanand, will host six investiture ceremonies at Premier House in Wellington this week.
The ceremonies are being held at Premier House due to the closure of Government House in Wellington in 2008 for a major conservation project. Some of those being honoured include academic Sir Mason Durie, filmmaker Sir Peter Jackson, kōhanga reo pioneer, Dame Iritana Tawhiwhirangi, veteran journalist Ian Templeton and Antarctic scientists Professor Peter Barrett, Professor Tim Naish and Alex Pyne.
Three of the six ceremonies involve media pooling. The designated media are outlined below. At those ceremonies, other media may wait outside Premier House (undercover) till the ceremony is over and Government House will liaise in organising interviews and photo calls.
Media who wish to attend the ceremonies must advise Antony Paltridge, Public Affairs Manager at Government House on 021 470 583 , with the names of those attending by 5pm on the day before the ceremony. All media will require appropriate identification and must be reasonably dressed. All media will need to be on site 30 minutes before each ceremony begins. Once the ceremonies are underway, it will not be possible to admit media to the grounds.
Tuesday 27 April 10.30am (Investiture of Sir Mason Durie and 14 others)
- Video footage to be provided by Māori Television – contact Taiha Molyneux, Assignments Editor, on 09 539 7067
- Still footage to be provided by the Dominion Post – contact Mark Round, Illustrations Editor, on 04 474 0192
Tuesday 28 April 2.30pm (no pooling)
Wednesday 28 April 10.30am (Investiture of Sir Peter Jackson 13 others)
- Video footage to be provided by TVNZ – contact Mark Torley, Bureau Editor, on 04 914 5054
- Still footage to be provided by the Dominion Post – contact Mark Round, Illustrations Editor, on 04 474 0192
Thursday 29 April 10.30am and 2.30pm (no pooling)
Friday 30 April 10.30am (Investiture of Dame Iritana Tawhiwhirangi and 12 others)
- Video footage to be provided by Te Karere (TVNZ) – contact Shane Taurima, News Editor, on 09 916 7273
- Still footage to be provided by the Dominion Post – contact Mark Round, Illustrations Editor, on 04 474 0192
Full lists:
Tuesday 27 April 10.30am (media pooling applies – see above)
Professor Sir Mason Durie, Fielding, KNZM for services to Māori health
Hamilton and Inez Kingi, Rotorua, QSO for services to the community
Elaine Moffat, Lower Hutt, QSO for services to women and the community
Dr James Edwards, Otaki, ONZM for services to the veterinary profession
Ann Mallinson, Wellington, ONZM for services to publishing
William Matson, Waikanae, ONZM for services to swimming
Alan Kerr, Wellington, MNZM for services to MAF
Christine Pearce, Wellington, MNZM for services to music
Irene van Dyk, Upper Hutt, MNZM for services to netball
Dr Christine Walsh, Levin, MNZM for services to women's health
Neale Ames, Otaki, QSM for services to surf life saving
Panchanatham Narayanan, Upper Hutt, QSM for service to the ethnic community
Jean Thompson-Church, Palmerston North, QSM for services to the community
Professor Peter Barrett, Wellington, AM for services to Antarctic science
Tuesday 27 April 2.30pm
Dr Paul Morgan, Nelson, QSO for services to Māori business and Māori
Friedrich Eisenhofer, Waikanae, ONZM for services to architecture
Dr Gordon Kirk, Palmerston North, ONZM for services to medicine
Garrick Murfitt, Pahiatua, MNZM for services to local government, agriculture
Dr Peter O'Hara, Upper Hutt, MNZM for services to animal health and welfare
Dr David Sabiston, Napier, MNZM for services to ophthalmology
Bryan Digby Benton, New Plymouth, QSM for services to the community
Victor Viggers, Napier, QSM for services to music and the community.
Major Dougal Barker, Palmerston North, DSD for services to the NZDF
Wing Commander Mark Brunton, Lower Hutt, DSD for services to the NZDF
Major Bryce Gurney, Upper Hutt, DSD for services to the NZDF
Major Peter Jacobs, Lower Hutt, DSD for services to the NZDF
Wednesday 28 April 10.30am (media pooling applies – see above)
Sir Peter Jackson, Wellington, KNZM for services to film
Murray Ferris, Gisborne, QSO for services to the community
Alec McLean, Wellington, QSO for public services
Professor Geoffrey Horne, Wellington, ONZM for services to medicine
Dr Michael Boyes, Dunedin, MNZM for services to mountain safety
Stuart Devenie, Auckland, MNZM for services to entertainment
George Fairbairn, Wellington, MNZM for services to the community
Timothy Horner, Otaki, MNZM for services to the New Zealand Customs Service
Barry Shea, Te Horo, MNZM for services to the Ministry of Social Development
Gillian Davies, Napier, QSM for services to the theatre
Margaret Seabrook, Wanganui, QSM for services to the visually impaired
William Stirling, Hastings, QSM for services to Māori and the community
Ineleo Tuia, Lower Hutt, QSM for services to the Tokelauan community
Alex Pyne, Wellington, AM for services to Antarctic engineering
Thursday 29 April 10.30am:
Ian Templeton, Wellington, CNZM for services to journalism
Jack Inglis, Motueka, ONZM for services to the community
Dr Daniel Devadhar, Wellington, MNZM for services to medicine
Jimmie Kan, Palmerston North, MNZM for services to the Chinese community
Michael Pannett, Wellington, MNZM for services to the New Zealand Police
Glen Wiggs, Wellington, MZNM for services to advertising
Grant Coward, New Plymouth, QSM for services to the New Zealand Police
Allan Devlin, Lower Hutt, QSM for services to the community
Robert Filbee, Palmerston North, QSM for services to the New Zealand Police
James McDonough, Upper Hutt, QSM for services to the New Zealand Police
Gaylene Rogers, Auckland, QSM for services to the New Zealand Police
David Stone, Waikanae, QSM for services to the New Zealand Police
Thursday 29 April 2.30pm
Trevor Grice, Otaki, CNZM for services to the community
Stella Bares, Wellington, QSO for services to the Greek community
Lane Mohi, Wellington, QSO for services to education
Elizabeth Brown, Manakau, ONZM for services to business and women
Laurie Duckworth, Blenheim ONZM for services to Māori and the community
John Young, New Plymouth, ONZM for services to the dairy industry
Brigit Blair, Christchurch, MNZM for services to business
E/Professor Colin Holmes, Palmerston North, MNZM for services to agriculture
Thomas Mackenzie, Wellington, QSM for services to the community
Douglas Page, Takaka, QSM, for services to brass bands
George Ririnui, Chatham Islands, QSM for services to the Ministry of Fisheries
Lawrance Saunders, Blenheim, QSM for services to the community
Jacqueline Vaughan, Wellington, QSM for services to speech and drama
Coraleen White, Westport, QSM for services to the community
Professor Tim Naish, Lower Hutt, AM for services to Antarctic climate science
Friday 30 April 10.30am (media pooling applies – see above)
Dame Iritana Tawhiwhirangi, Masterton, DNZM for services to Māori education
Kevin Brady, Wellington, CNZM for public services, lately as Auditor-General
Lawrence Metcalf, Richmond, CNZM for services to horticulture
Flora Edwards, Wellington, ONZM for services to music
John Beaumont, Havelock North, MNZM, for services to sport
Martin Berryman, Hamilton, QSM for services to the New Zealand Fire Service
Roy Breeze, Hamilton, QSM for services to the New Zealand Fire Service
Robert Brown, Nelson, QSM for services to the community
Peter Hallett, Hamilton, QSM for services to the New Zealand Fire Service
Owen Kinsella, Tauranga, QSM for services to the New Zealand Fire Service
Beverley Raine, New Plymouth, QSM for services to emergency management
Elizabeth Richardson, Wellington, QSM for services to Māori & Pacific education
Gary Talbot, Thames, QSM for services to the New Zealand Fire Service