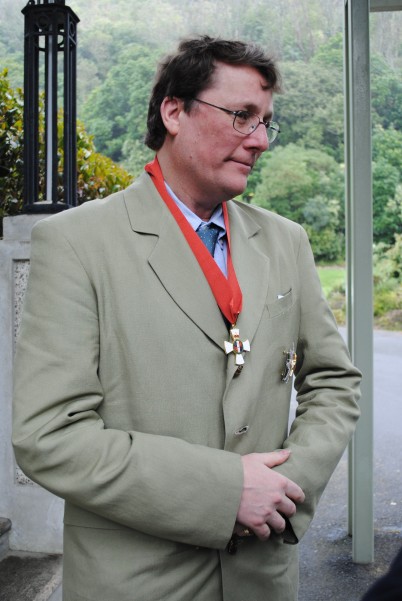 Film maker Sir Richard Taylor, poet Ian Wedde, chef Ruth Pretty and businessman Lloyd Morrison are among more than 60 people to be recognised at investiture ceremonies in Wellington this week.
To view images from the ceremonies, click here
The Governor-General, Rt Hon Sir Anand Satyanand, and Lady Susan Satyanand, will host five investiture ceremonies at Premier House in Thorndon on Tuesday 7 September (10.30 and 2.30pm), Wednesday 8 September (10.30am) and Thursday 9 September (10.30am and 2.30pm). The ceremonies are being held at Premier House due to the closure of Government House in Wellington in 2008 for a major conservation project.
The ceremony on Thursday 9 September at 10.30pm when Sir Richard Taylor will be knighted will involve media pooling. The designated media are outlined below. At that ceremony, other media may wait outside Premier House (undercover) till the ceremony is over. Sir Richard has agreed to do a brief photo call and interview outside after the ceremony.
Video footage to be provided by TV3 – contact Gordon McBride, Wellington Bureau Chief on (04) 8944151 or (021) 445500
Still footage to be provided by the New Zealand Press Association – contact Amber Fallow, Content Services Manager on (04) 498 5391 or (021) 567 040
Media who wish to attend the ceremonies must advise Antony Paltridge, Public Affairs Manager at Government House on 021 470 583, with the names of those attending by 5pm on the day before the ceremony.
All media will require appropriate identification and must be reasonably dressed. Media will need to be on site 30 minutes before each ceremony begins. Once the ceremonies are underway, it will not be possible to admit media to the grounds.
Tuesday 7 September 2010, 10:30am
Kevin Rimmington, New Plymouth, CNZM for services to banking
Judge Edward Unwin, Nelson, QSO for services to the judiciary
Nigel Gould, Wellington, ONZM for services to business and the community
Pamela Findlay, Johnsonville, MNZM for services to marching
Frank Le Fort, Wellington, MZNM for services to music
Te Paea Dodd, Mahia, QSM for services to Māori
Mervyn George, Whitianga, QSM for services to the Fire Service
Betty Leung, New Plymouth, QSM for services to the Chinese community
Wayne Sarjeant, Paraparaumu, QSM for services to the Fire Service
Margaret Townshend, Tauranga, QSM for services to the community
Alvan Wakeford, Havelock North, QSM for services to the Fire Service
Lindsay Walker, Levin, QSM for services to the Fire Service
Charlene Williams, Waikanae, QSM for services to nursing
Tuesday 7 September 2010, 2:30pm
Dr Helen Anderson, Wellington, QSO for services to the Ministry of Research, Science and Technology
Darcy Nicholas, Lower Hutt, QSO for services to museums
Keith Lawrence, Wellington, ONZM for services to rugby
Kevin Atkinson, Havelock North, MNZM for services to business
Douglas Eckhoff, Lower Hutt, MNZM for services to film
Alan Milne, Paraparaumu, MNZM for services to the community
Margaret Bowler, Feilding, QSM for services to the community
Ratilal Champaneri, Wellington, QSM for services to the Indian community
Leigh Gibson, Gisborne, QSM for services to the YMCA
Haami Hilton, Napier, QSM for services to Māori
Ping Mabbett, Wellington, QSM for services to the arts and the community
Barry Mansell, Otaki, QSM for services to the community
John Perkins, Wellington, QSM for services to radio
Frances Robinson, Gisborne, QSM for services to historic places
Wednesday 8 September 2010 10.30am

David Middleton, Wellington, ONZM for services to the Earthquake Commission
Ian Wedde, Wellington, ONZM for services to art and literature
Mervyn Craw, Palmerston North, MNZM for services to the community
June Jackson, Wellington, MNZM for services to the community
Samuel Jackson, Wellington, MNZM for services to the community
Squadron Leader James Jennings, Palmerston North, MNZM for services to the Defence Force
John Nankervis, Wellington, MNZM for services to mountaineering
Derek Round, Masterton, MNZM for services to journalism
Joseph Churchward, Wellington, QSM for services to typography
Roslyn Jerram, Opotiki, QSM for services to the community
Paul Patel, Palmerston North, QSM for services to the Indian community
Group Captain (Rt) Mary Cox, Wellington, DSD for services to the Defence Force
Thursday 9 September 2010, 10:30am
(Media pooling applies: see above)
Sir Richard Taylor, Wellington, KNZM for services to film
Lloyd Morrison, Wellington, CNZM for services to business
Wynton Cox, Christchurch, ONZM for services to business
David Gallaher, Palmerston North, MNZM for services to music
Maarten Kleintjes, Wellington, MNZM for services to the Police
Senior Sergeant Brian Benn, Dunedin, QSM for services to the Police
Inspector Bruce Bird, Manukau, QSM for services to the Police
Rosalie Blake, Levin, QSM for services to the library profession
Soloi Sanders, Nelson, QSM for services to the Pacific Islands community
Sergeant James Sole, Ashburton, QSM for services to the Police
Senior Sergeant Donald Stuart, Manukau, QSM for services to the Police
Diana Valentine, Wanganui, QSM for services to the community
Thursday 9 September 2010, 2:30pm
Kura Kaa, Tikitiki, QSO for services to the restoration of historic places
Dr Leona Wilson, Wellington, ONZM for services to medicine
Peter Charleton, New Plymouth, MNZM for services to the community
Vivek Kinra, Wellington, MNZM for services to traditional Indian dance
Ruth Pretty, Te Horo, MNZM for services to the food industry
Anthony Whitaker, Motueka, MNZM for services to herpetology
Christine de Jong, Auckland, QSM for services to music
Mark de Jong, Auckland, QSM for services to music
Sister Valmae Flannigan, Wellington, QSM for services to education
Michael Gourley, Wellington, QSM for services to people with disabilities
Robert Penington, Blenheim, QSM for services to the community
Margaret Robertson, Wellington, QSM for services to amateur theatre
Sharon Thorburn, Wellington, QSM for services to the community