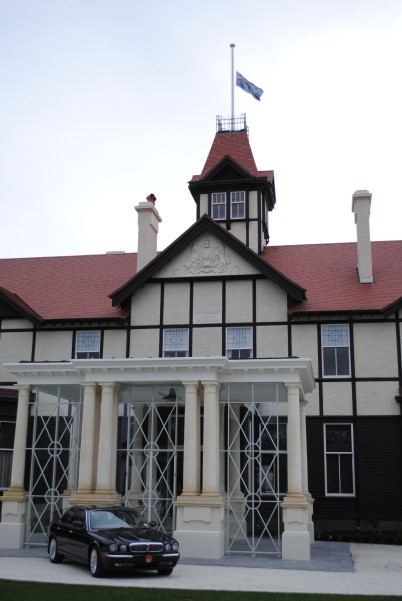 After eight years of service, the primary Government House limousine, a black Jaguar, is to be sold and replaced with a BMW.
Official Secretary at Government House, Niels Holm, said the 2003 XJ8 Jaguar car, along with a 2007 Holden Caprice, based at Government House Auckland, would be sold through an auction house in September.
The Jaguar, which has about 63,000km on the clock and has been regularly serviced and well maintained, has been the primary limousine for the Governor-General since 2003.
It has transported many Ambassadors and High Commissioners to Government House before they presented their credentials to the Governor-General, and carried HRH Prince William in 2005. It has travelled to many corners of New Zealand, including the West Coast of the South Island and East Coast of the North Island as part of the Governor-General's regional visits.
"While by normal operating standards the Jaguar should have been replaced three years ago, Government House was conscious of the tight financial times the country faced and held on to it," Mr Holm said.
The Jaguar was bought in 2003 for about $160,000 (including GST). Funds raised from the sale of the Jaguar will be returned to the Consolidated Account.
The Jaguar will be replaced with a black BMW, bought as a part of the recent purchase of new ministerial fleet of cars. The Auckland-based Caprice would be replaced with the 2009 Caprice based at Government House Wellington.
While the price paid for the BMW was commercially sensitive, Mr Holm said it represented excellent value for money.
The BMW will commissioned in early September.
For more information, contact Antony Paltridge, Public Affairs Manager, at Government House on 04 382 0827 or 021 470 583.