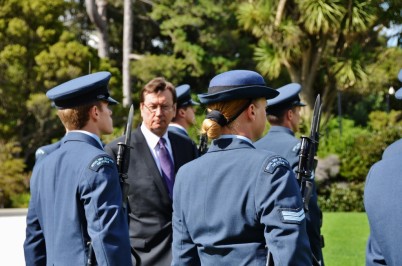 Envoys for Malawi, Estonia, Laos and Finland presented their credentials to the Governor-General, Lt Gen Rt Hon Sir Jerry Mateparae, at Government House in Wellington on 20 March 2013.
The ceremony, included a Māori ceremonial challenge, and a military guard of honour provided by the Royal New Zealand Air Force.
The High Commissioner for the Republic of Malawi, HE Dr Reuben Ngwenya, has worked as an academic and public servant. He holds a PhD in business management from Bolton University in Britain and was previously a senior lecturer at Mzuzu University and Director-General of the National Intelligence Service of Malawi. Dr Ngwenya is based in Tokyo.
The Ambassador of the Republic of Estonia, HE Mr Andres Unga, is a career diplomat. Mr Unga has previously served as Estonia's Ambassador to Sweden, Greece, Cyprus, Armenia, the People's Republic of China, the Republic of Korea, Thailand and Viet Nam. Mr Unga is based in Tallinn.
The Ambassador of the Lao People's Democratic Republic, HE Mr Phomma Khammanichanh, is a career diplomat. Prior to his appointment, he was Director-General of the Europe and America division of the Ministry of Foreign Affairs and has served in New York and Canberra. Mr Khammanichanh is based in Canberra.
The Ambassador of Finland, HE Mr Pasi Patokallio, is a career diplomat. He has previously served as Finland's Ambassador to Canada, The Bahamas, Israel and Cyprus. Mr Patokallio is based in Canberra.