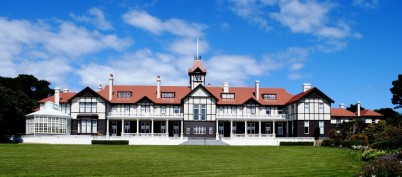 Envoys for Switzerland, Malaysia, Iran, Kosovo and the Czech Republic will present their credentials to the Governor-General, Lt Gen Rt Hon Sir Jerry Mateparae, at Government House in Wellington tomorrow (Thursday 30 October, 2014).
The ceremony, which will include a Māori ceremonial challenge and a military guard of honour provided by the New Zealand Army, begins at 11am.
The Ambassador of Switzerland, HE Mr David Vogelsanger has a doctorate in history and political science from Zurich University and was a delegate of the International Committee of the Red Cross. Joining the Swiss Confederations's diplomatic service in 1987, he has held postings in Washington DC; Bulgaria and Macedonia; and Milan. Immediately prior to taking up his posting in New Zealand, he was Ambassador to Côte d'Ivoire, Guinea, Burkina Faso, Liberia and Sierra Leone. Mr Vogelsanger is based in Wellington.
The High Commissioner for Malaysia, HE Dato' Lim Kim Eng is a graduate of the University of Science of Malaysia in Penang. She has had a thirty year career with the Malaysian Ministry of Foreign Affairs and in 2007 became Malaysia's Ambassador to Vietnam. Dato' Lim is based in Wellington.
The Ambassador of the Islamic Republic of Iran, HE Mr Jalaladdin Namini Miyanji joined the Iranian Ministry of Foreign Affairs in 1986. He has held postings in Turkey and the Democratic People's Republic of Korea and has an MA in International Relations from the Azad University of Tehran. Mr Namini Miyanji is based in Wellington.
The Ambassador of the Republic of Kosovo, HE Dr Sabri Kiqmari holds a PhD from the Institute of Political Science and Sociology at the Rheinische Friedrich-Wilhelm University at Bonn. He began his career as a journalist before moving into the world of academia as a lecturer. His first diplomatic posting was to Austria in 2008. Dr Kiqmari is based in Canberra.
The Ambassador of the Czech Republic, HE Mr Martin Pohl worked as a farm manager in South Africa and as an account manager for companies like Xerox and Apple before joining the Czech Republic Ministry of Foreign Affairs in 1997. Since then he has had postings in Ghana and South Africa. Mr Pohl is based in Canberra.
Last updated:
Wednesday, 29 October 2014