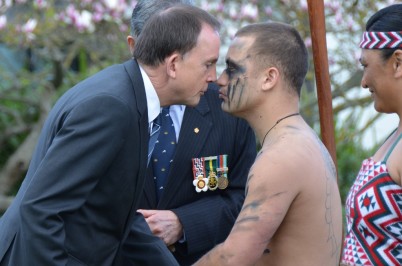 Envoys for Kuwait, the United States of America, Venezuela and United Arab Emirates will present their credentials to the Governor-General, Lt Gen Rt Hon Sir Jerry Mateparae, at Government House in Wellington on Monday (Monday 9 February, 2015).
The ceremony, which will include a Māori ceremonial challenge and a military guard of honour provided by the Royal New Zealand Air Force, begins at 11am.
The Ambassador of the State of Kuwait, HE Mr Ahmed Bader Razouqi began his career with the Kuwait Ministry of Foreign Affairs in 1987. He has had postings in Mauritania, Rome, London, Washington, D.C and Kenya and was previously Ambassador to Venezuela. Mr Razouqi is based in Wellington.
The Ambassador of the United States of America, HE Mr Mark Gilbert has had a distinguished career in finance, including positions with Barclays and Goldman Sachs and he served as the Deputy National Finance Chair for the Democratic National Committee for four years. Mr Gilbert played baseball professionally with the Chicago White Sox and is a graduate of Florida State University. Mr Gilbert is based in Wellington.
The Ambassador of the Bolivarian Republic of Venezuela, HE Mr Nelson Dávila-Lameda has a Masters in Higher Education from Venezuelan Central University and worked as a lecturer at the Armed Forces School of Communication and the National School of Finance before joining the Ministry of Foreign Affairs. Mr Dávila-Lameda is based in Canberra.
The Ambassador of the United Arab Emirates, HE Mr Khalifa Saif Ahmad Al-Mazrooei is a career diplomat, who has had postings in South Africa, Turkey, USA, Canada and Singapore. He has a Master's degree in International Policy and Practice from George Washington University. Mr Al-Mazrooei is based in Wellington.
Last updated:
Thursday, 5 February 2015