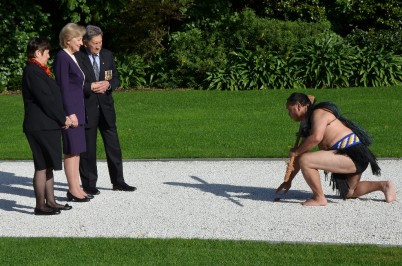 It will be an all-African event as the envoys for Tanzania, Mauritania, Algeria and Swaziland present their credentials to the Governor-General, Lt Gen The Rt Hon Sir Jerry Mateparae, at Government House in Wellington on Wednesday (2 September, 2015).
The ceremony, which will include a Māori ceremonial challenge and a military guard of honour provided by the Royal New Zealand Air Force, begins at 11am.
The High Commissioner for the United Republic of Tanzania, Her Excellency Dr Batilda Salha Burian is a former MP and Minister of State and has a PhD in Planning Studies from University College in London. Dr Burian is based in Tokyo.
The Ambassador of the Islamic Republic of Mauritania, His Excellency Mr Yahya Ngam joined the Mauritanian Ministry of Foreign Affairs and Cooperation in 1985. Since then he has had postings in Romania, Morocco, USA, Gambia and Italy. Mr Ngam is based in Tokyo.
The Ambassador of the People's Democratic Republic of Algeria, His Excellency Mr Abdelaziz Lahiouel studied Economics and Finance at the National School of Administration in Algiers. He has been Algeria's Ambassador to Tanzania and Poland and most recently was in charge of Multilateral Economic Affairs at his country's Ministry of Foreign Affairs. Mr Lahiouel is based in Canberra.
The High Commissioner for the Kingdom of Swaziland, Her Excellency Mrs Zanele Angeline Mdluli was previously Chief of Protocol officer to Her Majesty The Queen Mother of Swaziland. Mrs Mdluli is based in Kuala Lumpur.
Media wishing to attend the ceremony at Government House in Wellington must contact Jo Blick, Public Affairs Adviser, on 021 243 7958 by 9am on Wednesday 2 September, 2015.
Last updated:
Tuesday, 1 September 2015