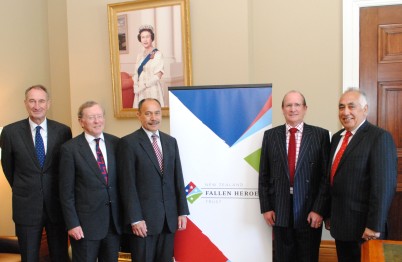 To view more images, click here
The Governor-General, Lt Gen The Rt Hon Sir Jerry Mateparae has agreed to be Patron for a charitable trust recently formed to provide support for the families of soldiers killed or injured on operations overseas.
The New Zealand Fallen Heroes Trust was established by a group of people in the community with strong ties to the New Zealand Defence Force who saw a role for direct, practical support to the families of those men and women who were injured or killed whilst serving their country. Loosely modelled on similar international initiatives, the Trust aims to fund projects that make a real difference to the lives of our heroes and their families.
Sir Jerry Mateparae said: "I am hugely proud to be the first Patron of the New Zealand Fallen Heroes Trust. While the risks of serving in war-torn countries like Afghanistan are fully understood by our serving men and women, I well know how deeply their tragic loss impacts on the loved ones they leave behind."
The Trust is raising money to provide support to the families of all New Zealand casualties since 1999, which was when troops were first sent to Timor-Leste.
Baden Ewart, from the Trust said: "New Zealand has an excellent welfare system in place, but some of the families of those killed or injured may need additional support, and this is where the Trust wants to assist."
In his first act as Patron, the Governor-General introduced members of the families of soldiers killed in Afghanistan to Their Royal Highnesses, The Prince of Wales and The Duchess of Cornwall, at a private function at Government House. This was an opportunity for The Prince and The Duchess to speak with the families and express his condolences for the loss of their loved ones.
For more information, contact Baden Ewart on (021) 476-519
Last updated:
Thursday, 15 November 2012