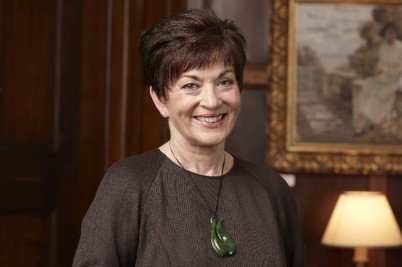 The Governor-General, The Rt Hon Dame Patsy Reddy and Sir David Gascoigne will depart for an official visit to Niue and the Cook Islands on Tuesday, 21 March.
(NOTE: The following dates are Niue and Cook Islands' local time – a day behind New Zealand.)
This is Dame Patsy's first overseas visit since she took on her role as the Governor-General of the Realm of New Zealand, which includes Niue and the Cook Islands.
In 20 March, on the afternoon of her arrival in Niue, Dame Patsy will see an art exhibition and a cultural performance. On 21 March, she will preside at an investiture ceremony for the Premier, Sir Toke Talagi, who was knighted in the 2017 New Year Honours. During her two-day visit, she will also meet Government Ministers and members of the community, see agricultural initiatives, and plant a coconut palm to groundbreak the site of a new museum.
On the afternoon of her arrival in Rarotonga on 22 March, Dame Patsy will receive a cultural welcome. The following day, she will meet the Queen's Representative in the Cook Islands, HE Mr Tom Marsters, and the Prime Minister, Mr Henry Puna and his Cabinet, before travelling to Aitutaki, where she will tour Karamoo plantation.
On 24 March, Dame Patsy will meet NZDF Youth Development participants and local community groups before returning to Rarotonga, where she will meet members of the community, visit Tereora College, and unveil a plaque at a RSA seawall to commemorate the service of 500 soldiers during the First World War.
Programme:
20 March
1150 Arrival at Hanan Airport, Niue and Niuean Takalo (traditional challenge ceremony)
1530 Art Exhibition and Performance, at the Tourism Office, Alofi
21 March
1000 Investiture of Sir Toke Talagi, at the Fale Fono, Alofi
1540 Tour of Vaipapahi Farm and Tuapa Vaka
22 March
0900 Groundbreaking of Taoga Niue (cultural museum) site
0925 Meet National Council of Women and Chamber of Commerce representatives, at Makini Hall, Alofi
1350 Arrive in Rarotonga and meet the Queen's Representative HE Mr Tom Marsters
1630 Atupare Marae – cultural welcome
23 March
0900 Presentation of long-service medal to Chief Petty Officer Andrew Orr, at Crown Beach Hotel.
1100 Photograph Dame Patsy and Sir David with the Queen's Representative, Mr Tom Marsters and Mrs Marsters, at the Queen's Representative's residence.
24 March
1100 Morning reception with local community groups at the Official Residence of the NZ High Commissioner.
1315 Visit to Tereora College, to view one of the major development projects supported by New Zealand.
1500 Depart Rarotonga for Whenuapai.