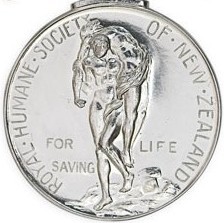 Seven courageous people who put their own lives at risk to save others are to be recognised by Governor-General, Sir Anand Satyanand, at a ceremony in Auckland this week.
Tomorrow (Wednesday 3 June), the Governor-General and Lady Satyanand will host an awards ceremony for the Royal Humane Society of New Zealand at Government House in Auckland.
As Patron of the Society, the Governor-General will present six silver medals and one bronze medal to seven people involved in three incidents. They were:
A silver medal to Donna Kitchener (Titirangi) who swam out and saved a boy caught in the Manukau Harbour mudflats at Green Bay as the tide was rising on 30 January 2006. The boy's father, who also went to his son's aid, tragically died in the rescue attempt.
Silver medals to Anthony Church (Hamilton) and Joseph Harding (Ngaruawahia) who went to the aid of the driver of a burning fuel tanker involved in a collision on SH1 near Hamilton on 30 October 2007. Soon after the rescue the tanker was engulfed in flames.
A bronze medal to Albert Collins (Hamilton) who, in the same 30 October 2007 incident, rescued the driver of the truck involved in the collision with the fuel tanker.
Silver medals to Joe Nunufolau (Apia), John Tavita (Mangere) and Shane Robinson (Waiuku) for saving four people trapped in a van which was on fire after a collision with a car on SH22 on 8 June 2008. Soon after the rescue, the van was engulfed in flames. (A further silver medal was earlier this year presented to Karl Hogan, who lives overseas, for his role in this rescue).
Since its inception in 1898, the Society has bestowed 2029 awards for acts of bravery where the rescuers have put their own lives at risk to assist others whose lives were in peril. Some 211 silver medals and 694 bronze medals have been issued to date.
To view images from the ceremony, click here.
The ceremony will be at 3pm on Wednesday 3 June 2009 at Government House Auckland and media wanting to attend this ceremony must contact Antony Paltridge, Public Affairs Officer by noon on 3 June to register their attendence.
Media are reminded that a reasonable standard of dress is expected at Government House.